I like to spend my weekend at Rolling Rallys with my closest 1,000,000 friends. Of course I'm a Red Sox fan, that part should have been clear. We won. Please note only a fan pronounces he won, when he did not actually expend any blood or tears winning games – I can't promise that the fan didn't expend any sweat – it was hot at some of those games.
After not attending 2004 or 2007, I figure the likelihood of attending another Red Sox rally is a bit smaller, and it was time to join the fun. The news covered the final minutes of the last game, and then the celebrations – http://bostonherald.com/news_opinion/local_coverage/2013/11/t_bracing_for_wave_of_riders_for_sox_rally_see_route_map
Menino is legend with his Ro-wing Raw-y. It's amazing how many people get to see the Sox – the Sox / Bruins / Celtics / Patriots are truly lucky to have 10 miles of glory.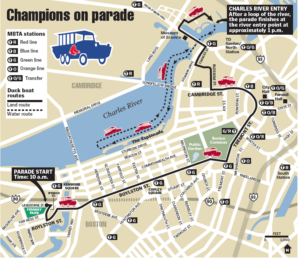 Seeing the Rally with Friends is amazing too 🙂   Katie/Matt and Kristen/I stood right on the edge of the Fenway.
Enjoy the Photos of the Rally….
Pablo