We always begin the day consuming mass quantites of food. Monday found us in no different of a position. Steak sandwiches with mushrooms and onions on english muffins.
Delicious and satisfying, we sat for a moment baking in the early sun of the badlands. Time to go…
We put our camping gear in our tough totes and begin packing the van. Maddog, in the most brilliant of ideas, decides to ratchet the door open to keep it from continually slamming shut on the person packing the van. The ratchet went from the tire to the door. ( anyone see any foreshadowing? )
We clean up the site, throw the totes in, loose stuff rolls out the side doors. Another light bulb turns on. Maddog thinks to level the van. Twist the Key. Vroom. In gear. The beast ain't moving! But the door is!
Shoot! shoot! Some sensored words come flying out.
I look back at the van, door at 90 degrees to the van. I call out everything ok? More sensored words. More and more…
I walk back to the drivers side. I see the ratchet, i see the look. I hear the call for the surgical instrument to fix the situation. A hammer should work to get it loose. Some tense minutes follow, maddog fixes the situation. We close the door. It works. We laugh.
Maddog laughs. As he says he owns this one. Not any drop of blame to share. A complete classic.
We finish the packing and take a path out.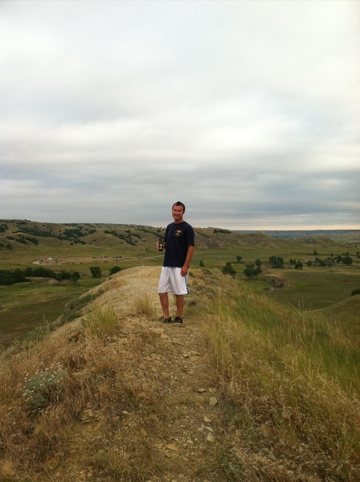 We are dirty stinky men with one agenda item – a swim.
We drive for horsethief lake. We dive in. We surface. We beach ourselves like sea lions. We are in awe, beauty, water, fish, and mountains in the distance. We dive in many times more. We chat with fellow travelers on a roadtrip across the rockies.
We head back to the van, and drive up to Rushmore. We park a top the super strucuture, and face the amazing vista. We grab sandwiches and drinks and chat. America is grand. We walk around the views, grab gifts and ice cream. We are satisfied with our choices.
We head to Rapid City to the Firehouse Brewery. Dinner and drinks were phenomenal. Service was grand. I get a caffeinejolt, and we head to our next stop in Deadwood.
We end up at the Hickhock Hotel in a Suite for the night. We ended up parking a half mile away because of the size of the beast.
We headed out at five, 167$ lighter, and ended up at Pistol Petes for Breakfast.
The breakfast was fantastic. Highly recommend it is in buffalo wyoming.
See you next in Montana!